A question I get asked a lot is "what happens when you adjust my spine" The answer is always "so many things!" So, I will do my best to explain what exactly happens when you get your spine adjusted.
The first concept we need to nail down is not what, but WHY. Why do we adjust certain areas of the spine? A chiropractor through various methods assesses the spine to determine which joints are "stuck", "restricted", "subluxated" or simply put, are not moving as they are supposed to. It is then with the adjustments or manipulation the goal of the chiropractor is to make these joints "unstuck", "unrestricted", "free of subluxation". Essentially help the joint move like they are supposed to in the full range of motion.
The second concept we need to nail down is WHAT happens when a joint is restricted or subluxated. When a joint is not moving correctly it immediately begins to degenerate or "break down". The break down begins due to a decrease in movement of joint fluid which helps maintain joint health and a change in the mechanics of the joint (think of having a warped tire on your car, it may still roll but if you keep using it, it will cause things to break down). This degeneration kicks off a process called nociception (English: response to an unpleasant stimuli). Nerves and the spinal cord then relay this nociception to the brain where it is sometimes interpreted as pain (10% of the time), however most of the time this process is pain free. Regardless if there is pain or not, the process is underway.
The third concept to nail down is proprioception (English: how the body knows where it is). You can close your eyes and bring your finger to your nose, this is an example of proprioception. There are millions of sensors around your body that send information to the brain about where everything is. Most of these sensors are in the muscles, ligaments and skin. One of the highest concentrations of these sensors in your body is in the muscles and ligaments that surround your spine. The brain then
interprets all this information to make a "map" of where the body is and what muscles need to fire to make it move where it wants to go. What is important to know, that if a joint, or muscle or ligament is not functioning properly, neither are the proprioceptive mechanisms. This means that when your spinal joints are "restricted" or "subluxated" your brain has a diminished sense of where it is, or the "map" is not quite right. This can result in increased pain, muscle spasm and increased risk of injury.
Let's recap, when your spinal joints are restricted it can result in: pain (but not always), joint degeneration, muscle spasm, increased injury risk and even more that we will not touch on in this article.
Now we know the basics of what happens when you NEED an adjustment, now we will learn how anvadjustment fixes this. Like I said in the beginning, a chiropractor's goal is to restore the normal movement of the joint. When we correct normal joint movement we therefore decrease nociception and joint degeneration. We also restore proper proprioception. The result of this leads to a decrease in pain, decrease in joint degeneration, increase in range of motion, increase in muscle strength and a decrease in muscle fatigue.
These are all the result of your "brain map" being properly restored. Here is an easy example to help understand. Imagine a lightbulb on a dimmer switch. Your brain is the light bulb. When your spinal joints are restricted or subluxated the light bulb is dimmed. This leads to pain, decreased range of motion, muscle spasm etc. After a spinal adjustment, the lightbulb is turned back on full power. Leading to a decrease in pain, increased range of motion, and increased muscle function.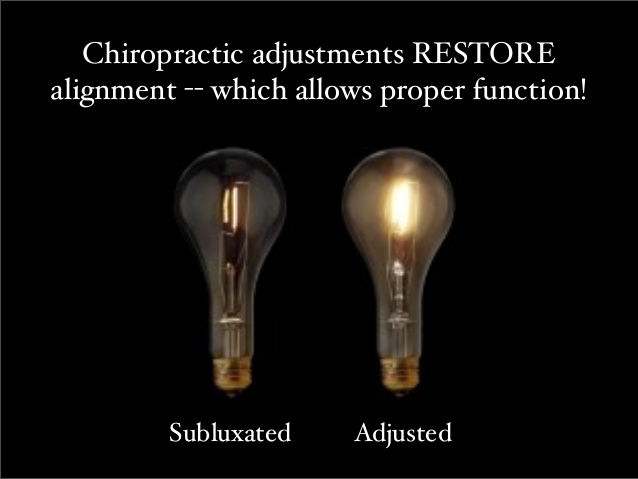 If you are interested in learning more I would love to see you in the office at Oakville Chirorpactic Centre. Either give us a call at 905-845-2291 or fill out a form on our website by clicking here. Come get adjusted and get your lightbulb turned back on to full power!
Dr. Phil Wessel