Hot Stone Massage Therapy
A hot stone massage therapy is a treatment eases muscle stiffness and increases circulation through the use of water-heated, smooth, stones placed on the body. The heat from the stones helps warm up and loosen the muscles allowing the massage therapist to work deeper and quicker.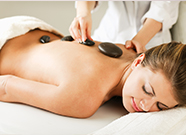 The stones are strategically placed on the body (with or without pressure) promoting healing by targeting deepers layers of muscle. This procedure combined with other massage techniques can yield amazing results and benefits such as:
Improved circulation
Muscle pain relief
Helps with insomnia and other sleep issues
Better flexibility
Better joint mobility
Relief from chronic pain such as arthritis, multiple sclerosis and fibromyalgia
Give us a call to book a massage today at 905-845-2291.
Back