Neuropathy and Chiropractic
Neuropathy is a condition that can have a negative impact on every aspect of your life. It makes things as simple as walking, sitting or even sleeping seem like torturous tasks. Many people who suffer from this condition have seen many specialists, had multiple tests and searched for something to help ease the pain without any success.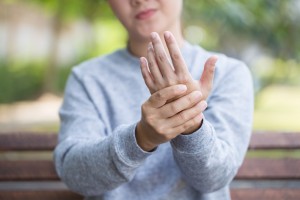 Symptoms of Neuropathy
If you are experiencing any of the following symptoms, you may be suffering from Neuropathy symptoms:
Pins and needles
Numbness in the hands or the feet
Tingling or burning sensation
Weakness in the arms or legs
Sharp shooting or burning pains
You are not alone. More than 2 million Canadians suffer from Peripheral Neuropathy. This is an issue caused by damage to the nerves that supply your legs and arms. This incredibly painful condition interferes with your body's ability to transmit messages to your internal organs, muscles, joints and/or skin. People that tend to ignore or mistreat neuropathy can experience long term health conditions.
Neuropathy is caused by the degeneration of the spine putting pressure on the nerve roots. Any of the vertebral joints from the neck right down to the tailbone can be effected.
Chiropractic Treatment for Neuropathy
Our Chiropractors use gentle techniques to relieve pressure that has been building up on the nerve. This allows healing to take place on the nerves and symptoms to fade.
Several studies have shown the effectiveness of Chiropractic and improving nerve conditions.
"Patients showed an 85.5% resolution of the nerve symptoms after only 9 chiropractic treatments." – Journal of Chiropractic Medicine, 2008
"With chiropractic care, patients had "significant improvement in perceived comfort and function, nerve conduction and finger sensation overall." – JMPT, 1998
"Significant increase in grip strength and normalization of motor and sensory latencies were noted. Orthopedic tests were negative. Symptoms dissipated." – JMPT 1994
According to data from the National Board of Chiropractic Examiners' Job Analysis of Chiropractic, arm and leg neuropathy is listed as the second most common nerve problem treated by Chiropractors.
Why not schedule an appointment with one of our Chiropractors and have your neuropathy treated by an seasoned Chiropractor who has experience treating this condition. Call us at 905-845-2291 or click here to fill out a new patient form with your information.
Back