Chiropractic Adjustments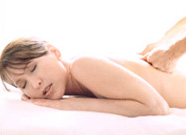 Adjustments are the physical portion of Chiropractic care and can also be referred to as Chiropractic treatments. Many people refer to these as "back cracking" or "snapping the neck", this is simply not the case as Chiropractic adjustments are highly skilled and accurate methods to reposition misaligned vertebrate. The short answer is a resounding NO as most are not painful. Quite to the contrary many patients love their adjustments.
The "Activator"
At Oakville Chiropractic Centre, our Chiropractors mainly employ a high velocity, low force instrument known simply as the "Activator" along with hands-on adjustments and soft tissue therapy. This ensures our patients the highest amount of comfort as we are able to adjust gently and effectively. In addition adjustments are known to release pain relievers known as "endorphins" that expel a chemical reaction throughout the body making it feel good. If you have any further inquiries about adjustments talk to your chiropractor and they will be more then delighted to answer any of your questions. We offer courtesy consultations to answer any questions that you may have.
To book an appointment, call us at 905-845-2291 or click here fill out a new patient form with your information.
Back