Chiropractic & Brigadier General Becky Halstead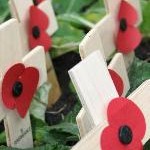 Today I would like to talk about the importance of Remembrance Day across the planet but first in a related topic I recently came across this article about Iraq and Afghanistan veteran Brigadier General Becky Halstead (U.S Army) and her experiences with Chiropractic. It is truly a fascinating piece that only takes a second to read so I truly implore you to check it out by following the link below:
Retired General Touts Benefits of Chiropractic in the Military
Remembrance Day
On the 11th hour of the 11th day of 11th month we will once again observe a brief moment of silence to pay gratitude to those who have honourably defended our true north strong and free nation.
From our young beginnings in the British Commonwealth, through the military campaigns of the 20th century and right up to today's modern conflicts, young men and women have bravely stood up as Canadians overseas.
On Remembrance Day choose to honour their memories and further efforts to secure safety and freedom throughout our great nation. We often look to the symbol of military and separate our civilian lives from their concerns, we must always remember that these are young men and women with family friends and hopes and dreams just like you and me.
Please take a brief moment out of your hectic life and remember this. For those who have made the ultimate sacrifice for us,
Lest We Forget
——————————————————————————–
for more information on Alliance Healthcare Professionals please follow us to our homepage www.alliancehealthcare.ca