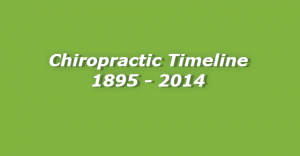 Chiropractic and Timeline Events….
I was pondering how long and severe the winter was this year and realized that with June knocking on the door we are half way through the journey of 2014. I started thinking about timelines and decided to review the following….
1895 – Dr DD Palmer performs the first adjustment and coins the term Chiropractic. That same year Wilhelm Roentgen discovered X-Ray.
1896 – Richard Sears begins the RW Sears Watch Co. that becomes Sears – Roebuck
1897 –  Dow chemical and Goodyear Tire are founded
1899 – The feud between Allopathic Medicine and Chiropractic begins
1900 – Milton Hershey introduces the milk chocolate Hershey bar to the US
1903 – My father Dr Ernest C Huggins was born in Yorkshire
1906 – Dr DD Palmer is jailed for 23 days for practicing Chiropractic. They claimed it was practicing medicine without a licence.
1910 – Dr Palmer introduces the X-ray at the Palmer School of Chiropractic
1915 – North Dakota and Arkansas are the first states to licence Chiropractic
1921 – Time magazine and Readers Digest begin publication . Now there are more than 80 schools teaching the art and philosophy of Chiropractic
1939 – World War II breaks out and my father enlists with the Royal Canadian Air Force
1945 – Veterans began advanced schooling in various professions. My father chose Chiropractic
1949 – Dr Ernest Huggins graduates in the first class of Canadian Memorial Chiropractic College. Newfoundland joins Confederation.
1959 – Alaska and Hawaii are admitted to the union as the 49th and 50th states
1963 – A chiropractic supporter President Kennedy is assassinated. Chiropractic is licenced in New York.
1964 The American Medical Association has a clandestine faction working on the elimination of Chiropractic.
1969 – Neil Armstrong becomes the first man to walk on the moon
1971 – Nike is founded
1974 – Richard Nixon resigns as U.S. President and Gerald Ford takes over
1976 – Chester Wilk and four other plaintiffs sue the American Medical Association for violating anti-trust laws and secretly trying to eliminate chiropractic. I graduate from Wilfrid Laurier with my baccalaureate in science and enroll at CMCC in Toronto
1980 – I Dr Brian Huggins graduated from Chiropractic College in Toronto
1987 – A Federal judge rules in favour of Chiropractic vs. The American Medical Association.
1988 – Fax machines appear as a business tool / My family relocated to Oakville
1990 – The US Court of appeals upholds the ruling that the Medical Association was guilty of conspiracy
1990 – The Berlin Wall is torn down
1995 – Chiropractic turns 100
2005 – Hurricane Katrina wreaks havoc along the Gulf coast.
2008 – Dr Mike Reed is named medical director for the US Olympic Team … first time for a chiro
2010 – My daughter Dr Tiffany Huggins receives her degree in Chiropractic – 3rd generation
2014 – My Toronto Maple Leafs have still not won the Stanley Cup since 1967