Custom Orthotics in Oakville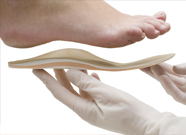 Did you know that the use of Orthotics can alleviate chronic conditions throughout your entire body? It's absolutely true, Orthotics have been proven to alleviate back, knee, and foot pain. Not to mention Orthotics are essential to battling heal spurs also found in the feet.
Custom Orthotics Can Help
Early diagnosis and correction through Orthotics can make chiropractic treatments more effective. Orthotics are not for everyone, but here are some of the symptoms that are indicators:
Joint pain – are your joints experiencing pressure and pain while standing, walking or running?
Knee pain – knee pain can sometimes be the result of an uneven wear and imbalance on the soles of the shoe
Low back pain – Low back pain can sometimes be the result of corns, bunions or flat feet causing and uneven weight distribution throughout the body. Fortunately Orthotics is an effective method of weathering this problem.
If you are experiencing any of these above problems please consult your Chiropractor about the possible use of Orthotics. Your professional will be more than happy to perform an examination on you discriminating against the spine and foot connection of your condition. After foot, gait, and spinal analysis, Orthotics can be custom molded for your feet and allow you to get back to walking on cloud nine. Orthotics can also be covered by many extended health care packages, so what are you waiting for?
Call us at 905-845-2291 or click here to fill out a form for more information on custom orthotics!
Back