Lower Back Pain Treatment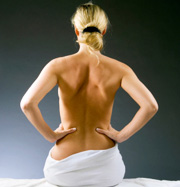 The lower back, hips, and in turn lower limbs can be particularly irritable areas for some. The problem simply lies in the stress that is put on the back from supporting the upper body. Poor posture, spinal injury, spinal sprain or strain, wear and tear, hereditary weakness, can cause a variety of painful low back problems. Lower back problems can also cause a swelling in the sciatic nerve leading to tingling throughout the lower back, numbness and pain and weakness in your lower back and legs. Fortunately Chiropractic is an effective treatment for lower back pain. With our Chiropractic care, proper stretching and specific exercises lower back pain can be history for you too!
Call us at 905-845-2291 or click here if you are looking for a Chiropractor near you in Oakville.
Back